Reale Seguros provides most types of insurance in Spain. Reale is part of the Reale Mutual Group of Italy which was founded in 1828.
Reale has 285 offices throughout Spain as well as more than 2800 agents representing the company. they offer all the usual popular types of insurances such as golf insurance and private health insurance, below we list other types of insurances with explanations.
We feel we must mention Reale Seguros because they are such a large company and our insurance in Spain section simply must cover them, however, we do like to recommend companies offering policies in English and who you can talk to in English, this isn't necessarily the case with Reale and we note that their website is only in Spanish at the present time.
Motor and Car Insurance
Reale Seguros Insurance are one of Spain's largest providers of motor insurance in Spain, also known as car insurance. Extras that you may not get with other companies policies include accident insurance, points recovery, recovery of fines, legal defence, medical assistance, funeral expenses and breakdown cover.
Household Insurance
If you have purchased property in Spain you will need to take out house insurance in Spain. Reale Insurance Spain offer home contents insurance and buildings insurance in Spain as well as community insurance. House insurance is provided for a number of different situations, whether your house is your main residence or secondary residence, whether it is let out and rented or whether it is empty.
House insurance policies cover buildings and contents in the event of fire, explosion, flooding, theft, electrical damage as well as giving you legal defence and public liability.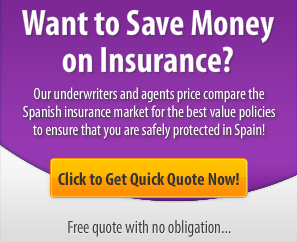 Accident Insurance
Accident insurance covers you personally should you be involved in an accident you will be covered in case of total and temporary invalidity giving you medical assistance and insuring you in case of death.
Liability Insurance
Liability insurance provides you cover against damage caused to third-party people or property.
Business Insurance
Business insurance is a must if you have a shop, office, warehouse or factory. You need this insurance to cover you for the buildings, the contents, theft, flooding, loss of earnings, legal defence and public liability insurance.
REVIEWS
We are looking for independent reviews of Reale Insurance so if you have used them please let us know your experiences and any comments you might have such as how their premiums and quotes compared to other insurance companies in Spain, this will help other people searching for insurance in Spain.
Tell us whether you think Reale Insurance offer cheap insurance in Spain and tell us whether you think the service is good and if you believe they offer good value for money.
CONTACT INFORMATION
Telephone: 902 365 240
Page Summary: Reale Seguros are one of the longest-established and best-known insurance providers in Spain. They provide quotes and coverage for most types of insurance you would need in Spain.