In the article below we have some information that is specific to buying a used car in Spain which we will also refer to as a second-hand car.
We have written this article in order to guide you away from the many pitfalls that can be involved when you are buying a used car and importantly we set out the rules and regulations for buying a car in Spain.
Should I Buy a Used Car or Import My Car?
We get a lot of questions e-mailed to us from people who are living outside Spain in countries such as the United Kingdom.
They wonder if it is worthwhile bringing their car to Spain and importing it or re-registering it as a Spanish-registered vehicle or whether they should just buy a used car when they arrive.
One thing that we can say is that used car prices in Spain do certainly as a general rule, appear to be much higher than in the United Kingdom or Germany.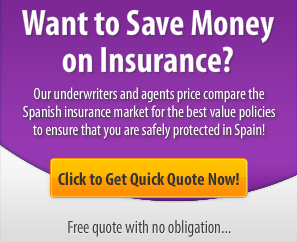 If you are wanting a quote for either car, home or life insurances, then we have special forms for those:
Click here for an online quote for car insurance.
Click here for an online quote for home insurance.
Click here for an online quote for life insurance.
It is somewhat hard to work this out but it would appear to be down to the lack of a fleet vehicle market in Spain.
The Spanish tend to buy a car and hold onto it for a long time and in most cases run into the ground.
The hot climate does also tend to help because there is less corrosion from the wind and rain so that cars do tend to last longer in Spain and be in better condition if you're looking to buy a second hand one.
Despite the expense, we definitely suggest you just consider moving to Spain and buying either a new car or a used one because it will be registered in Spain and be legal to drive on the Spanish roads immediately.
In this way you avoid all the major hassle and time and expense of making sure your vehicle is imported correctly and be registered so that it is legal on Spanish roads.
If you do wish to bring your current car into Spain then we suggest using the services of a Gestor, this is a person qualified in many legal matters.
They will be able to register your car correctly and legally for a fee which would usually be approximately €500 or in some cases more, depending on the technicalities involved.
The more unusual the vehicle, especially if it has a number of modifications, the more difficult and expensive it will be.
The other factor you should consider before you buy a used car is whether you will be able to afford the upkeep, especially the insurance premiums which can be prohibitively high for young car drivers in Spain.
Where Can I Buy Used Cars?
Just like anywhere else you would start with the main car dealerships who deal with a particular manufacturer such as Mercedes, BMW, SEAT, Fiat, Citroen and Renault.
This is probably the most expensive option when looking to buy a used car but it is also your safest option.
A main dealership will give you the security of being able to go back should you encounter any problems with the vehicle, this is because you will usually have a warranty of a year and in some cases even longer.
The second option would be to look at used car dealerships who have a variety of different makes and models.
An established business dealing in selling used cars is usually a fairly safe bet but you certainly need to rigourously check the car over for any defects.
The most risky way to buy a used car in Spain is to buy privately. You will soon notice by the roadside in Spain, many cars parked with 'se vende' (for sale) signs in the windows.
Despite the risks involved this would be the cheapest way to buy a second-hand car and as long as you can establish the identity of the owner and that they do own the vehicle, you may get yourself a good deal.
Buying a second-hand car from a private seller will also save you from paying the government tax, known as IVA (similar to VAT) which is currently at a rate of 16%. So if you are buying from a car dealer, you must ask whether the price includes IVA or not.
Most national and local newspapers will have used cars for sale listed in their classified ads sections.
Ask yourself (and them) the obvious questions such as why are they selling the car?
Try get someone who has a mechanical knowledge to check the car over for faults as they may be knowingly selling you a car that has serious problems and in need of major repairs which could be extremely expensive if it is something like a gearbox or engine fault.
You would also need to be careful that you are not unknowingly buying a stolen car or one that has previously been written off in an accident and then repaired which could render it unsafe and illegal on the road.
Buying a Second-Hand Car in Spain – What To Look Out For
Getting a photocopy of the car owner's passport and NIE number is absolutely essential as you will then be able to track them down should you need to in the future. If they are Spanish they will also possess the national identification document known as the DNI- again get a copy!
Even if you have got copies of this important documentation it still doesn't actually mean that they own the car that they claim to be selling. You would check this by inspecting the log book of the vehicle.
There are three parts to look at in Spain:
Permiso de Circulacion – This is the most important document and is the vehicle registration document which shows exactly who owns the car or vehicle.
Ficha Technica – This is the ITV certificate that states the car is roaworthy. It will show the vehicle specifications and details. This outlines the technical description of the car such as make and model and any relevant information such as engine size, modifications etc.
IVTM – This actually stands for Impuesto Sobre Vehículos de Tracción Mecánica and we would know this in English as road tax or car tax. This annual tax is compulsory and the person owning the car on 1 January is liable for this tax around March/April. Click here for more details on road tax in Spain.
You also need to be careful because when buying a second hand car in Spain you become liable for any outstanding debts on the vehicle, these could include:
Outstanding loans if the car has been bought on finance.
Unpaid parking tickets.
Unpaid speeding tickets.
Don't panic if all of this sounds off-putting or daunting. You can go to the Jefatura del Traffico (which is the equivalent of the DVLA in the UK) and for a small fee, you can get a check on the car. There are branches throughout Spain and all you need is the registration number (matriculation in Spanish).
What Do I Have to Do Once I Have Bought a Car?
If you have bought a used car from a private seller then you'll have to handle transfer and documentation between yourselves.
This can be a time-consuming and slightly complicated process.
If your Spanish skills are not good we recommend you employ the services of a Gestor to handle this on your behalf.
It will be well worth it to establish that you have bought the car properly and not been ripped off in the process.
If you do this yourself it is best to go with the seller to the Jefaura de Trafico office nearest you.
DO NOT give the seller any money until the transfer is complete and ownership of the car is yours.
A transfer fee will be payable so it is best to take cash of approximately €100 – although it shouldn't cost this much, it is best to be safe than sorry.
You don't want to have to go back and repeat the process all over again!
The other thing that you will definitely need is to take all of your original documentation as well as a few photocopies of the relevant documents.
Take your passport, driving licence, NIE number and even your empadronamiento certificate.
You may not need all of these but it is best to take them just in case.
Then the first thing you that you would do is immediately take out Spanish car insurance so that you can drive the vehicle away. Know the road rules for Spain – see our driving in Spain guide.
Additional help is available on our pages about insurance brokers and insurance companies.
Next you should be aware of when the next ITV is due.
The equivalent of an MOT in Spain is known is an ITV, which stands for "Inspeccion Tecnica de Vehicles".
This is the Spanish government's test on motor vehicles to ensure they are safe to drive on the roads.
New cars will be exempt, usually for four years, before requiring their first ITV inspection, after which the next test would be in two years time.
The cost of the inspection is relatively little, usually about €60 although this varies from vehicle to vehicle.
---
The Car People
Telephone: +34 96 579 6975
Email: info@thecarpeople.es
Type of Business: Used Car Sales
Towns or Areas Covered: Costa Blanca, Spain
Best Features:
• All vehicles go through a 100-point pre-sale check.
• All vehicles are HPI-cleared, and all paperwork in order.
• Free online valuation for your car in sale or part exchange.
• Vehicle transport service between UK and Spain.
• Affiliate referral scheme available for website owners.
Main Description:
The Car People buy and sell second hand vehicles on the Costa Blanca, Spain. We don't have expensive showrooms or pushy sales people, which means lower overheads and savings we can pass on to you.
What we do have is over 25 years main dealer experience supplying and purchasing autos around Europe, and providing vehicle transportation between Spain and UK.
---
Europa Autos
Business Address:
Calle Tres de Abril de 1979, 22-24
Malaga 29004
Telephone: 952642337
Email: info@europaautos.es
Type of Business: Used Vehicle Dealership
Towns or Areas Covered: Malaga, Costa del Sol
Best Features:
Personalised service. Family owned boutique used car dealership in Malaga, Costa Del Sol specialising in quality used vehicles.
Native English speakers.
All our advertised car prices include IVA, transfer fees, ITV, pre-delivery service and 12 months or 30.000kms warranty, whichever occurs first.
Our cars are sourced from leading Leasing Companies and we have access to stock from Leasing Companies in Spain and throughout Europe.
To take out all the confusion and uncertainty when purchasing a car in Spain, we handle all the paperwork for you, including your N.I.E, Empadronamiento, registration transfer and car insurance.
If we don´t have the car you are looking for in stock, we will source it for you, from our leading Leasing partners.
Main Description:
We are a family from Australia who recently made the big move to Spain for a more balanced family lifestyle. We have years of experience working together in the automotive industry in both Spain and Australia. Now we are putting our passion for cars into serving Malaga and the Costa del Sol with the best quality used car offering in town.
While we love the lifestyle Spain has to offer, we also understand the frustration when you are new to the country and trying to sort out all the paperwork. So thinking about buy a used car in Spain can seem like a daunting process.
As a father and son duo (Manuel & Joseph) our mission is to help you navigate through the buying process. We will help you find the right car for your needs while ensuring the process is as stress free as possible.
---
Calvia Cars – Sell Your Spanish Car
Business Address:
Carrer València, 37
Telephone: +34 606 76 36 73
Email: sellyourspanishcar@tutanota.com
Type of Business: Car Dealer
Towns or Areas Covered: Calvià, Balearic Islands, 07183 Spain
Main Description:
Sell Your Spanish Car at Calvia Cars is Mallorca's premier consumer-direct Spanish car buying company. we are a small team of professionals.
---
Related Insurance Pages
https://www.spainmadesimple.com/insurance/car/