The Caser Group has almost 70 years experience in the Spanish insurance market with other offshoots in the group such as Caser pensions. It it is one of the largest and best known Spanish insurance company.
Here are the main types of insurances offered in Spain:
Caser Car Insurance (Seguros de Coche)
Caser Insurance has sold it's car insurance in Spain for over 60 years, mainly through savings banks but it also has the support of an extensive network of insurance brokers.
Caser auto insurance is a good choice for those who value the good level of coverage and personalized service over and above taking out an insurance policy based on price alone.
One of the highlights is that Caser, unlike most other car and motor insurers accept drivers under 25 years.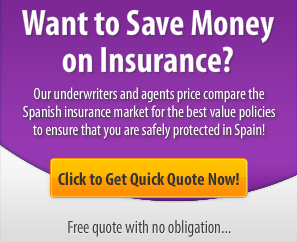 Caser Home Insurance
Caser Home (Caser Hogar) is the way to protect yourself, your family and home from potential problems and with the best value for money on the market.
"In Caser know that often the best of life is to stay home. That's why we created Caser Home, the insurance that gives you the most comprehensive coverage with the best quality and price in the market. Because so much for you as for us, there's no place like home.
This home insurance for Spain has the primary objective of protecting the insured against those risks that could jeopardize their property and those that may cause a decrease in equity arising from claims by third parties."
Innovative coverage – legal protection, breakdown of appliances, all new material risk as travel assistance and computer support (data recovery).
Legal protection.
Theft of cash cards.
Damage to trees, shrubs, garden, plants, lawns from fire, explosion, lightning and wind.
Limits on liability and damages tailored to the needs of each client and their home.
Caser Health Insurance
Caser Health offers you the very best in private health care in Spain: forget about waiting lists, and choose a doctor and hospital from a selection of 40,000 specialists and 1,150 clinics. Because when it comes to your health, we do not take any chances.
Caser Insurance also offer the following services in Spain: life insurance, funeral insurance, pet (dog, cat) insurance quotes and motorbike insurance.
SpainMadeSimple.com also offer our own price comparison for motorbike insurance.
Caser Seguros Contact Details:
Cars:902 112 030. Hours from Monday to Friday 8am – 9pm and from 8am to 3pm on Saturdays.>
Home: 902 366 505. Open 24-hours.
Retail and Real Estate: 902 454 595. Open 24-hours.
Accidents: 902 020 116. 9am to 5pm Monday through Friday
Health: 901 332 233. 8am to 10pm Monday through Friday
Deaths: 902 158 198. Open 24-hours.
Address: Avenida de Burgos, 109, Madrid, 28050
Telephone: +34 902 352 035
e-mail: infoexpatriate@caser.es
If you have any reviews of Caser Insurance (Caser Seguros) we would love to hear your opinions and experiences in order that this might help new customers who are thinking of taking out an insurance policy with Caser in Spain.