This page on Spanish insurance companies is all about giving you a comprehensive listing of all the major companies providing insurance in Spain.
There are of course many different types of insurance that you may be looking for but predominantly we recognise that most people are looking for motor insurance or house insurance.
Below will find information on all the companies who provide quotations for the many different types of insurances you may require when living in Spain.
Don't forget that you may also wish to contact an insurance broker in Spain who can shop around and compare prices and quotes from many different insurance companies.
We also point out which companies offer services in English as many of our website visitors only speak English.
The links that you find on this page go to more detailed pages on our website about that type of insurance or the specific company named.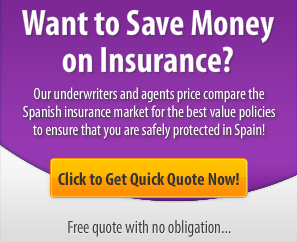 If you are wanting a quote for either car, home or life insurances, then we have special forms for those:
Click here for an online quote for car insurance.
Click here for an online quote for home insurance.
Click here for an online quote for life insurance.
---
ASSSA
Business Address:
Agrupación Sanitaria de Seguros S.A.- ASSSA. Avenida Juan Carlos I, No. 32, Centro Comercial Bahia de Los Cristianos, Local 21, 38650 Los Cristianos, Tenerife
Telephone: 922752794
Email: tenerife@asssa.es
Type of Business: Private Insurance Company
Towns or Areas Covered: Madrid, Barcelona, Denia, Altea, Orihuela Costa, Gran Canaria, etc.
Best Features:
Private health insurance in Spain, Private health insurance in the Canary Islands, Funeral insurances, Dental insurances, Accident insurances. Lifetime discounts. No premium increase due to age.
Main Description:
Asssa is a private insurance company based in Alicante specialized in health insurances and established since 1935. We have different offices in the south of Spain and 3 years ago we started our expansion process in the Canary Islands. We also offer funeral insurances, dental and accident policies. We speak your language and all of our documents are in your language also.
---
AXA Spain
AXA Spain consists of a number of different divisions providing different services to over 4 million customers through these companies as listed below:
AXA General Insurance
AXA Winterthur Health
AXA Life
Aurora Life AXA
AXA Pension
AXA Spain Contact Details:
Address: Camino Fuente de la Mora, 1 – 28050 Madrid
Telephone: +34 915388200 – Fax: +34 915553197
Website: www.axa.es
E-Mail: atencion.clientes@axa.es
We have a more detailed page about AXA in Spain.
Caser Seguros
The Caser Group has almost 70 years experience in the Spanish insurance market with other offshoots in the group such as Caser pensions. Caser offer these services in Spain: car insurance, home insurance, health insurance, life insurance, funeral insurance, pet insurance and motorcycle insurance.
Caser Seguros Contact Details:
Cars: 902 112 030. Hours from Monday to Friday 8am – 9pm and from 8am to 3pm on Saturdays.
Home: 902 366 505. Open 24-hours.
Retail and Real Estate: 902 454 595. Open 24-hours.
Accidents: 902 020 116. 9am to 5pm Monday through Friday
Health: 901 332 233. 8am to 10pm Monday through Friday
Deaths: 902 158 198. Open 24-hours.
Caser Address: Avenida de Burgos, 109, Madrid, 28050
Caser Telephone: +34 902 352 035
Caser e-mail: infoexpatriate@caser.es
We have a more detailed page about Caser Seguros.
Catalana Occidente
The Catalana Occidente Group is one of Spain's largest insurance groups. Founded in 1864, it has vast experience in the industry as you can imagine with that history.
Catalana Occidente Address: Avda. Alcalde Barnils, 63 08174 SANT CUGAT DEL VALLÉS
Catalana Occidente Telephone: +34 902344000 Fax. 93 590 82 57
We have a more detailed page about Catalana Occidente
Linea Directa
Linea Directa have English speaking support staff and policy documents in English. They operate in a similar manner to Direct Line in the UK in that they specialise in competitive low-cost cover over the telephone.
Services include: Fully comprehensive car insurance from just €299. Moped insurance. Spanish motorbike insurance (Your scooter from €110 and your trail bike from €99). SME motor policy (fleet insurance). Home insurance. Quad insurance.
Linea Directa Contact Details:
Telephone: 902 123 148.
We have a more detailed page about Linea Directa.
Mapfre Insurance
Mapfre provided a number of major insurance services as you would expect briefly these are as follows:
Car insurance for Spain such as fully comprehensive, third-party and third party fire and theft.
Mapfre Home Insurance for Spain. This covers the various types of house insurances for Spain related to properties such as contents insurance, buildings insurance and community insurance.
Mapfre Travel Insurance will cover you if you are travelling outside of Spain and you need worldwide travel protection.
Mapfre Health Insurance. Private medical health insurance to cover you for illness, operations and needing urgent treatments.
Mapfre Spain Contact Information:
Address: Carratera de Pozuelo-Majadahonda, 52
28220 Majadahonda, Madrid, Spain
Mapfre telephone number: +34-91-581-1100
We have a more detailed page about Mapfre Spain.
Liberty Seguros
Liberty Seguros is a major insurance company in Spain. It is part of the Liberty Mutual Group, established over one hundred years ago and which is the fifth largest property and casualty insurance company in the United States.
Liberty Seguros has operating in Spain since 2001 and is now a household name. Liberty Seguros has specifically targeted the expatriates market in Spain with over two hundred English-speaking staff and policies in English. Many other languages are spoken such as German, Dutch, French, Swedish, Danish and Finnish.
Liberty mostly offer car and motor insurance policies as well as house insurance but they also provide a number of different insurance services such as life insurance in Spain, marine/boat insurance, scooter insurance Spain, business insurance, Spanish van insurance and golf insurance for Spain.
We have a more detailed page about Liberty Seguros Spain.
Peyalo Seguros
If you're looking for one of the biggest Spanish insurance companies then look no further than Pelayo Seguros (Insurance).
Established in 1933 the Pelayo Group comprises these companies:
Pelayo
Pelayo Mondiales Life
Central Insurance Agency
GPI SA
Nexia (Arpem and Km77)
Production Environment
Insurance Auxiliary Services SA
Pelayo Seguros Contact Details
Pelayo Seguros Address:
Pelayo Mutua de Seguros
C/ Santa Engracia 67-69
28010 Madrid
Email: garantia@pelayo.com
Pelayo Seguros Telephone: +34 902120921
Website: https://www.pelayo.com/
We have a more detailed page about Pelayo Seguros.
Protectapet Insurance
Protectapet Insurance are a small insurance company based in Spain and provide comprehensive pet insurance in Spain primarily for dogs and cats. English-speaking service and policy wording.
Protectapet Contact Details:
Apartado de Correos 42, Benitachell, 03726, Alicante, Spain.
Telephone: 966 493 903
Other major companies providing insurance in Spain include:
AXA
Allianz
Catalana Occidente
Generali
Zurich
Mutual Madrilena
Caser Seguros
Adeslas
Sanitas
Aviva
Standard Life
HBOS Financial Services
Legal & General
AEGON
Direct Seguros
Zurich Insurance
Allianz Insurance
Genesis
Catalana Occidente
Caser Seguros
Liberty Seguros
Verti
Axa
Linea Directa
MMT Seguros
Reale Seguros
Fexix Directo
Click Seguros
Pelayo
DKV
Prebal
Aresa
Lagun Aro
HNA
Aegon
Asefa Seguros
Nationale Suisse
Seguros Bilbao
Aviva
Clinicum Salut
Adeslas
Asisa
Sanitas
Generali Seguros
Sovag
Groupama