It isn't just car insurance in Spain that is compulsory – there is also the motor vehicle tax, or road tax, which is obligatory.
Road tax, known in Spanish as Impuesto Sobre Vehículos de Tracción Mecánica or IVTM for short is the annual tax payable on motor vehicles registered in Spain.
If you own a vehicle in Spain such as a car or motorbike then you must obtain compulsory road tax.
Although you will often hear the IVTM referred to as car tax in Spain, it does also apply to every type of motor vehicle such as caravans, scooters, vans, motorbikes and motorcycles.
Failure to do so can result in your vehicle being impounded by the police in Spain.
How Much Does Spanish Road Tax Cost?
So how much is road tax in Spain? Pricing depends on the vehicle, it's fuel type and the municipality in which it is registered. Each region in Spain has the freedom to set it's own prices. There are usually discounts available for persons with disabilities.
Road tax in Spain is much lower than other countries such as the United Kingdom. We are based in Javea on the Costa Blanca (Valencia region of Spain) and we pay IVTM of €92 a year for our four-year-old Citroen Picasso.
When is Spanish Road Tax Due?
The person liable for payment of the motor vehicle tax is the registered owner of the vehicle on the 1st of January.
The payment period for Impuesto Sobre Vehículos de Tracción Mecánica (IVTM) is usually anytime between the beginning of March and the beginning of May but this can vary from region to region in Spain.
Payment is generally due approximately at the end of each April. Even if you don't meet this date then the fine (when you do pay) is very small – we were once three months late and I think paid an extra 10 euros.
Where Do I Go To Pay?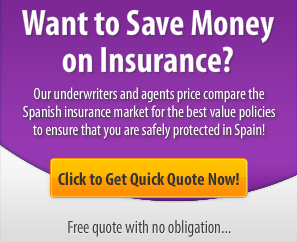 You can pay your road tax (Impuesto Sobre Vehículos de Tracción Mecánica) at your local town hall office (known in Spain as Ayuntamiento) or you can get a bank direct debit up so you don't have to think about it each year.
The only problem that could happen here is that if you sell your car you could end up paying the road tax until the debit is cancelled, it might be a hassle that's all.
You are normally send a notice as a reminder but even if you don't receive this then just go into your town hall and they will have your vehicle details anyway and will tell you how much to pay (they give you a slip which you take to a local bank to pay).
Payment can be made by direct debit or over the counter in any branch of certain designated banks.
My Vehicle is Off The Road – Is It Exempt From IVTM Road Tax?
The only way of not paying the road tax in Spain is if your vehicle if off the road for the whole year – in this case you can get an exemption which is known as a baja temporal.
If you re-register your UK registered car onto Spanish license plates then the car will automatically be logged by the local municipality when you or your gestor registers your ownership with the provincial traffic department.
You will then need to pay the road tax due for the rest of the fiscal year.
Page Summary
If you own a vehicle registered in Spain be it a car or other type of motor vehicle used on the roads, then you are liable to pay an annual road tax.
In Spain this is called Impuesto Sobre Vehículos de Tracción Mecánica (IVTM).
Related Insurance Pages