Below we have contact details and information for the various offices located throughout Spain for Ibex Insurance.
These contact details include telephone numbers forIbex Insurance Spain as well as addresses and the official Ibex website details.
About Ibex Insurance Services Ltd.
Ibex Insurance is part of Ibex Group which is a group of international insurance brokers originally established in 2000 and has grown to be one of the largest providers of insurance to the expatriate community in the Iberian Peninsula.
Ibex works with many leading insurers in order to offer clients a wide range of products which meet most general insurance needs. Ibex Insurance Services Limited is fully authorised and regulated by the Financial Services Commission in Gibraltar and is also a member of the Gibraltar Insurance Association.
Its fully owned subsidiary company Ibex Portugal Corretora de Seguros, Unipessoal LDA (Ibex Portugal) is authorised and regulated by the Autoridade de Supervisão de Seguros e Fundos de Pensões (ASF) as an insurance intermediary and an underwriting agency.
Ibex policies are available through a fully supported network of over 200 Brokers and Agents located throughout the Iberian Peninsula. Ibex offer a complete range of insurance policies including car, motorbike, home, holiday apartment, health, travel, marine, legal protection and commercial/business insurance.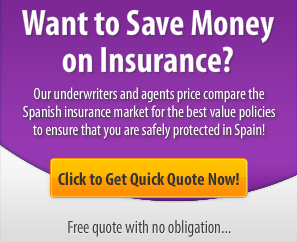 Ibex Products
Motor car insurance Spain: Competitive cover for UK, Spanish, Portuguese and Gibraltar registered vehicles
Home insurance Spain: Cover for your buildings & valued possessions
Holiday Apartment: Fixed annual rates for your holiday home insurance Spain
Travel: Single and Annual multi trip policies for European & Worldwide
Pet insurance in Spain: Cover for cats & dogs
Health insurance: Tailor made cover designed for you
Marine insurance in Spain: Tailored cover for UK, Spanish and Gibraltar Flags.
IBEX CONTACT DETAILS
Contact us today for further information a competitive quote! www.ibexinsure.com
Ibex have many offices throughout Spain, Portugal and Gibraltar. We can also help you compare car insurance in Portugal.
Ibex Gibraltar
68 Irish Town, Gibraltar
Tel: +350 200 44628
Fax: +350 200 44629
Email: gibraltar@ibexinsure.com
Ibex Estepona
Centro Comercial Benavista, Local 3, Ctra. De Cádiz Km 167, 29688 Estepona, Málaga
Tel: +34 952 887 125
Email: estepona@ibexinsure.com
Ibex Fuengirola
Edificio Vega, Local 6, Avda Jesús Santos Rein 13, 29640 Fuengirola, Málaga
Tel: +34 952 581 561
Fax: +34 952 583 089
Email: fuengirola@ibexinsure.com
Ibex Orihuela Costa
Calle Maestro Torralba, Local 4, CC Zeniamar, Urb. La Zenia Fase II, 03189 Orihuela Costa Alicante, Spain
Tel: +34 966 761 575
Email: orihuela@ibexinsure.com
Ibex Ciudad Quesada
Calle Turismo 4-A, Urb Ciudad de Quesada, 03170 Rojales, Alicante
Tel: +34 966 719 951
Email: quesada@ibexinsure.com
Ibex Tenerife
Edif. Simon Avda. Juan Carlos I, Local A7, Bloque 3, Los Cristianos, Arona, Tenerife Sur
Tel: +34 922 753 831
Fax: +34 922 753 856
Email: tenerife@ibexinsure.com
Ibex Mazarron
Camposol Business Centre, Urb Camposol, Sector A. Calle Madrid, 19, 30875 Camposol Mazarrón Murcia
Tel: +34 968 595 945
Email: mazarron@ibexinsure.com
Ibex Mallorca
C/ Zaragoza 1, C. C. Mercadona, Local 21, Son Caliu 07181 Calvià Mallorca, Baleares
Tel: +34 971 677 733
Email: mallorca@ibexinsure.com
Ibex Mojacar, Almeria
Local 85, Parque Comercial, 04368 Mojacar, Almeria
Tel: +34 950 475 156
Email: mojacar@ibexinsure.com
Ibex Albox, Almeria
Calle Rulador 36, Bajo, 04800 Albox, Almeria
Tel:  +34 950 120 070
Email: albox@ibexinsure.com
Ibex Almancil, Portugal
Avenida Duarte Pacheco Nº 32, 8135-104 Almancil , Loulé, Algarve
Tel: +351 289 399 774
Email: almancil@ibexinsure.com
Ibex Tavira, Portugal
Rua Primeiro de Maio 26B r/c, 8800-360, Tavira
Tel: +351 281 32 58 42
Email: tavira@ibexinsure.com
Why not also get a quote for your car renewal insurance from the Spain Made Simple Car Insurance Department?
If you have any experience of using Ibex Insurance Services please help us by making comments below.