Below we have contact details and information for the various offices located throughout Spain for Ibex Insurance.
These contact details include telephone numbers forIbex Insurance Spain as well as addresses and the official Ibex website details.
About Ibex Insurance Services Ltd.
Ibex was established in 2000 as a coverholder for Lloyd's, the world's leading insurance market.
Over the years we have rapidly expanded to become the largest insurance provider for expatriates based in the Iberian Peninsula and the leading provider of domestic motor insurance in Portugal and Gibraltar.
This has been accomplished as a result of our high quality cover, competitive rates and innovation, and of course the continued support of our agents.
We have a network of over 250 agents throughout Spain and Portugal in addition to our own retail offices in Spain, Gibraltar and Portugal.
All of our agents receive regular training and support from our dedicated business development team so you can be assured you will receive the same quality service whether you prefer to buy directly, or through your local agent.
Ibex was the first insurance provider in the Iberian Peninsula to offer an 'instant quote and buy online' facility and our team of customer service representatives continue to provide an outstanding service offering you the choice to buy online, over the telephone or face to face through our retail network.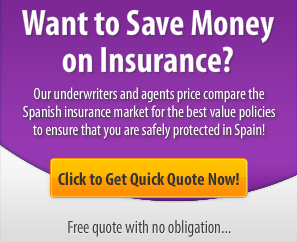 Ibex Products
Motor car insurance Spain: Competitive cover for UK, Spanish, Portuguese and Gibraltar registered vehicles
Home insurance Spain: Cover for your buildings & valued possessions
Holiday Apartment: Fixed annual rates for your holiday home insurance Spain
Travel: Single and Annual multi trip policies for European & Worldwide
Pet insurance in Spain: Cover for cats & dogs
Medical: Tailor made cover designed for you
Marine insurance in Spain: Tailored cover for UK, Spanish and Gibraltar Flags.
All Ibex policy holders also benefit from a selection of exclusive discounts and offers available via Ibex Plus.
CONTACT DETAILS
Contact us today for further information a competitive quote! www.ibexinsure.com
Ibex have many offices throughout Spain and Gibraltar of which the importance is often overlooked.
When we had our car accident in Spain, we were glad to be able to go into a branch and talk to a person who could handle all the necessary steps to be taken from there.
Ibex Gibraltar
68 Irish Town, Gibraltar
Tel: +350 200 44628
Fax: +350 200 44629
Email: gibraltar@ibexinsure.com
Ibex Estepona
Centro Comercial Benavista, Local 3, Ctra. De Cádiz Km 167, 29688 Estepona, Málaga
Tel: +34 952 887 125
Email: estepona@ibexinsure.com
Ibex Sotogrande
Sotomarket, Planto Atico, Oficina 14, 11310 Sotogrande, Cádiz
Tel: +34 956 584 643
Email: sotogrande@ibexinsure.com
Ibex Fuengirola
Edificio Vega, Local 6, Avda Jesús Santos Rein 15, 29640 Fuengirola, Málaga
Tel: +34 952 581 561
Fax: +34 952 583 089
Email: fuengirola@ibexinsure.com
Ibex Orihuela Costa
Zenia Sol II, Calle Flores 1, Bajo 3, La Zenia, 03189 Orihuela Costa, Alicante
Tel: +34 966 761 575
Email: orihuela@ibexinsure.com
Ibex Alfaz Del Pi
Avda. Pais Valenciano 15, Local 5 Edificio Agora, 03580 Alfaz Del Pi, Alicante
Tel: +34 966 860 965
Email: alfaz@ibexinsure.com
Ibex Ciudad Quesada
Calle Turismo 4-A, Urb Ciudad de Quesada, 03170 Rojales, Alicante
Tel: +34 966 719 951
Email: quesada@ibexinsure.com
Ibex Mazarron
C.C. Upper Local 2, Avda Doctor Meca S/N, 30860 Puerto de Mazarron, Murcia
Tel: +34 968 595 945
Fax: +34 968 974 731
Email: mazarron@ibexinsure.com
Ibex Tenerife
Edif. Simon Avda. Juan Carlos, Local A7, Bloque 3, Los Cristianos, Arona, Tenerife Sur
Tel: +34 922 753 831
Fax: +34 922 753 856
Email: tenerife@ibexinsure.com
Ibex Mallorca
Plaza Portals Local 31, Carretera de Palma-Andraitx 43, Portals Nous, 07181 Calvia, Mallorca, Baleares
Tel: +34 971 677 733
Email: mallorca@ibexinsure.com
Ibex Mojacar, Almeria
Local 85, Parque Comercial, 04368 Mojacar, Almeria
Tel: +34 902 105 499
Email: mojacar@ibexinsure.com
Ibex Albox, Almeria
Formally Lloyd & Whyte International, on the 1st September 2010 it was rebranded into the Ibex family. Antonietta, Berni and Sue have been providing insurance to the expatriate community for over four years and can assist you with all your insurance needs.
Calle Rulador 36, Bajo, 04800 Albox, Almeria
Tel: +34 902 105 499
Email: albox@ibexinsure.com
Ibex Boliqueime, Loule, Portugal
Maritenda House, En125 Maritenda, Boliqueime, 8100-084, Loule
Tel: +351 289 36 05 78
Email: boliqueime@ibexinsure.com
Ibex Tavira, Portugal
Rua Primeiro de Maio 26B r/c, 8800-360, Tavira
Tel: +351 281 32 58 42
Email: tavira@ibexinsure.com
Why not also get a quote for your car renewal insurance from the Spain Made Simple Car Insurance Department?
If you have any experience of using Ibex Insurance Services please help us by making comments below.