Liberty Seguros is a major insurance company in Spain. It is part of the Liberty Mutual Group, established over one hundred years ago and which is the fifth largest property and casualty insurance company in the United States.
With over 100,000 clients throughout the world the Liberty Mutual Group is able to offer competitive quotes for many different types of insurances as well as being backed up with a professional service with support and assistance in a multitude of different languages.
Liberty Seguros has been operating in Spain since 2001 and is now a household name.
The Spanish word for insurance is seguros so Liberty Seguros really means Liberty Insurance.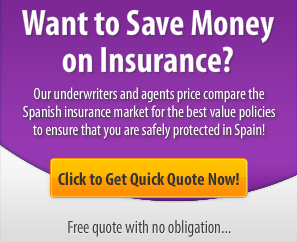 Support and Service in English
Liberty Seguros are experienced when it comes to offering policies to expats and they have a whole section of their website in English especially focused on the expatriate market as well as having multi-lingual staff who of course can speak English with you so you understand exactly what you're getting.
One of the important things to consider when taking out insurance in Spain is the after sales service should you need to make a claim. After all there is no point in paying expensive premiums if you find out you're not covering the risks – that's the whole point of insurance.
Liberty employ over 200 English-speaking staff to deal with the important expatriate insurance market in Spain. They are also able to speak many other languages such as German and French.
Liberty Seguros has specifically targeted the expatriates market in Spain with over two hundred English-speaking staff and policies in English. Many other languages are spoken such as German, Dutch, French, Swedish, Danish and Finnish.
Many of the best-known insurance brokers in Spain such as Knights Insurance will be giving you quotes provided by Liberty Seguros.
Given that most expats living in spain are over the age of fifty, Liberty Seguros has recognised this by providing tailored products and quotations for this senior age range of customers.
Liberty Insurance mostly offer car and motor insurance policies as well as house insurance but they also provide a number of different insurance services, a full-list is below.
Liberty Seguros Car Insurance
Liberty Seguros are well-known for their motor insurance in Spain, also known as car insurance.
You are well taken care of when you insure your car in Spain with Liberty Seguros because they have a large customer service department dedicated to handling any claims should you have an accident.
Liberty provide an excellent service which includes an extended travel assistance cover service telephone line 24 hours a day, 365 days a year. Your vehicle is covered and valued on a new basis for the first two years in case of a claim for total loss or fire or theft.
Unique to Liberty is the designated driver option instead of the car being insured for any driver which is usually the case in Spain. This new innovation from Liberty is aimed at offering cheaper car insurance quotations for safer drivers.
Liberty's Spanish car insurance highlights include roadside assistance which is included in your premiums and includes breakdown assistance from your home, extended travel assistance cover, discounts for safe drivers with no claims discounts of up to 55% and finally the value of the vehicle is considered as new for total loss, fire or theft claims during the first two years.
To get all of these benefits, especially the breakdown cover you need to take out a fully comprehensive car insurance policy.
Liberty Seguros Home/House Insurance
If you have purchased property in Spain you will need to take out house insurance in Spain (also known as home insurance).
Liberty Seguros Spain offer both home contents and buildings insurance.
This household insurance has a useful telephone helpline which is available 24 hours a day every day of the year.
Your personnel possessions (home contents) are insured on a 'replace with new basis'. Discounts are available depending on your security arrangements and the amount of sums insured.
There is also a dedicated customer service department available 24 hours a day every single day of the year should you need assistance with making the claim concerning your Spanish home insurance.
Liberty Seguros also issues policies for community insurance if you live in an apartment complex.
Life Insurance
Liberty life insurance gives peace of mind for your partner and children should anything happen to you. You will be protected against the risk of accidents, disability, serious illness and death.
Golf Insurance
Liberty golf insurance covers your golf equipment primarily your clubs in case of theft or damage. The extra costs involved in celebrating a hole in one. Worldwide golfing third-party liability up to €100,000 as well as personal accident cover of death €15,000, permanent disability €15,000, medical cover €3,000 and medical/pharmaceutical/hospital cover for the caddy of €3,000.
Business Insurance
Liberty business insurance will insure your business goods at their value as new with indemnity based on the cost of rebuilding as new. You are backed with a business assistance service telephone line 24 hours a day, 365 days a year.
Marine & Boat Insurance
Liberty will insure and covers risks while your boat is sailing, floating, moored or being transported over land. Your boat can be either sail or motor-powered and includes motor boats, sailing boats and jet-skis.
Liberty Insurance/Liberty Seguros Contact Details and Information
If you have a complaint to make to Liberty Seguros (Liberty Insurance) this is the address to send your correspondence:
We have an address, phone number, e-mail address and the official website url.
Most policies with Liberty are issued through insurance brokers and agents so it is generally correct to contact your broker first rather than going direct.
Liberty Seguros, S.A.
Buzón de Quejas
C/Zamora, 54
08002 Barcelona
Telephone: Currently unknown and not displayed on their website!
E-mail: Buzondequejas@libertyseguros.es
Customer Service email: info@libertyseguros.es
Website: Liberty Seguros
Currently we have been unable to find an address or phone number for Liberty Seguros (Liberty Insurance) as they seem to be hiding this information on their website, it does appear that they would prefer you to go back to the broker from home you originally bought your policy through.
Reviews
We are looking for independent reviews of Liberty Seguros so if you have used them please let us know your experiences and any comments you might have such as how their premiums and quotes compared to other insurance companies in Spain, this will help other people searching for insurance in Spain.
Tell us whether you think Liberty Seguros offer cheap insurance in Spain and tell us whether you think the service is good and if you believe they offer good value for money.