About Knight Insurance Services in Spain:
Knight are one of the best-known names in the world of Spanish insurance brokers.
Knight Insurance have been providing insurance to the expat market in Spain from 1966 so they are incredibly experienced when it comes to offering policies to expats.
Clearly they are of British origin so you have the ease of having your Spanish insurance policies explained to you in plain English so you understand exactly what you are getting.
Knight's staff are in fact multi-lingual so many other languages such as German, French and Spanish are spoken by many staff. Knight have many physical offices throughout Spain but mainly in the regions of Malaga, Alicante and Murcia.
As an independent insurance broker Knight offer every types of insurance you can need but the main ones are: home, business, life, travel, golf, funeral, community, home contents, liability, health, pet, motor, car and marine insurance.
If you have any experience of using Knight Insurance please help us by making comments below in order to help other people searching for insurance in Spain.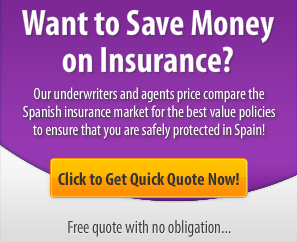 CONTACT DETAILS
Below we have contact details and information for the various offices located throughout Spain for Knight Insurance.
These contact details include telephone numbers for Knight Insurance as well as addresses and the official Knight Insurance website details.
KNIGHT INSURANCE OFFICES ON THE COSTA BLANCA
Knight Insurance Denia
Address: Marques de Campo 42, 1ª Oficina 5, Denia 03700, Alicante.
Telephone: 966 421 400
Knight Insurance Javea
Address: L 'Ancora Bloq. II, Local G, Avda Arenal, Javea 03730, Alicante. Telephone: 965 793 797
Knight Insurance have now closed their office in Calpe – the nearest office is now in Alfaz del Pi.
Knight Insurance Alfaz del Pi
Edifico Aragon 2, Local 3, Calle Ejércitos Españoles (Esquina Marina Baixa) 28, Alfaz del Pi 03580, Alicante.
Telephone: 965 889 516
Knight Insurance El Campello:
Address: Calle San Bartolome 58, Campello 03560, Alicante.
Telephone: 965 631 616
Knight Insurance Ciudad Quesada
Address: Calle Turismo 16, Ciudad Quesada, Rojales (Alicante) – 03170.
Telephone: 966 719 089
Knight Insurance Torrevieja
Address: Calle Apolo 56, Bajo, Torrevieja 03180, Alicante.
Telephone: 965 713 343
Knight Insurance La Zenia
Address: Calle Maestro Torralba 13, Urb La Zenia, Orihuela-Costa 03189, Alicante.
Telephone: 966 760 037
KNIGHT INSURANCE IN MAJORCA/MALLORCA
Address: Plaza Portals, 43, Local 33, Carretera de Palma-Andraitx, Portals Nous (Baleares) 07181.
Telephone: 971 677 546
KNIGHT INSURANCE OFFICES ON THE COSTA CALIDA (MURCIA REGION)
Knight Insurance Mazarron
Address: Local 20, Zona Comercial "A", Urbanización Camposol Fase 1, Mazarrón (Murcia) – 30870.
Telephone: 968 199 121
KNIGHT INSURANCE OFFICES COSTA ALMERIA
Knight Insurance Mojacar
Address: Paseo del Mediterraneo, 8, Apartado 1015, Mojacar Playa (Almería) 04638.
Telephone: 950 475 841
KNIGHT INSURANCE OFFICES ON THE COSTA DEL SOL
Knight Insurance Nerja
Address: Edf. Alcazaba 1, Bajo, Calle Almuñecar, Nerja 29780, Malaga.
Telephone: 952 524 600
Knight Insurance Fuengirola
Address: Ed. Lance del Sol, Portal I, 1ª, Avda. Nuestro Padre Jesus Cautivo, 51, Los Boliches (Fuengirola).
Telephone: 952 660 535
Knight Insurance Marbella
Address: Calle Africa 2, 2ºE, Marbella (Malaga) – 29600.
Telephone: 952 771 765
Knight Insurance San Pedro de Alcantara
Address: Calle Copo 10, San Pedro de Alcantara 29670, Malaga.
Telephone: 952 782 162
KNIGHT INSURANCE HEAD OFFICE:
Address: Ed. Lance del Sol, Pta.I, 1ª, Avda. Jesus Santos Rein s/n, Los Boliches, Apartado 113, 29640 Fuengirola,
Malaga, Spain. Telephone: 952 660 535. Website: https://www.knight-insurance.com/
Why not also get a quote from the Spain Made Simple Car Insurance Department:
https://www.spainmadesimple.com/insurance/car/