In this article we look at the topic of driving in Spain primarily from the point of view of driving a car in Spain.
Many visitors either drive to Spain or rent a car when they get there.
However, not only do the English speaking drivers from the UK and Ireland have to contend with driving on the "wrong" side of the road, there are many other differences that are new to them, even the road signs as there being about four times as many as there are where they normally drive.
Guide To Driving Safely in Spain
Whether you are resident in Spain or you are a tourist visiting Spain who will be hiring a car, you must be absolutely aware that Spanish drivers often do not stick to the road rules that you may be used to in your own country.
Often drivers will turn off without indicating or they will weave in and out of lanes rather than sticking to the outside lane.
When the Spanish park in a small and tight space they often move backwards and forwards nudging the car in front or behind with their bumper in order to fit into the parking space!
Therefore scrapes and bumps are commonplace in Spain so it really doesn't pay to have a nice top of the range new car model.
The following tips are to give a few of the cautions that these drivers need to be aware of, such as: –
Drink Driving Limits in Spain
This is a subject about which we had a lot of questions from people such as:
What are the penalties for driving under the influence in Spain?
How much can I drink when on holiday if driving in Spain?
What is the alcohol limit in Spain?
If the level of alcohol in your bloodstream is 0.05 per cent or more you are over the Spanish drink-driving limit.
The Spanish have got extremely tough on drink-driving, once once upon a time they were very forgiving but tough new rules and regulations have been implemented and enforced.
On the spot fines can be implemented (as high as €602) as well as the potential withdrawal/loss of your driving licence from 1 year to 4 years and even potential imprisonment.
If you are a driver with less than two years experience you are only allowed an alcohol level of 0.03% in your bloodstream.
Alcohol and drugs. The alcohol limits are about half those in the UK and Ireland, and currently, the authorities are campaigning to reduce the number of accidents in Spain, which in 2001 was the third worst in the EU.
Since then, they are much better due to campaigns, but still are not as low as Spanish government wants them. Consequently, there is zero tolerance being shown to anyone driving under the influence, and any penalties given will apply in the driver's home EU country.
Remember if stopped and found positive, you will not be allowed to drive away, and the fines are high as well as confiscation of licence for three months plus, plus penalty points being awarded for your driving licence (and attendance of compulsory schools for residents).
DRIVER'S Classifications

Please note the quantities are: –

Mg/l = milligrames per litre of air—breathalysed.

g/l = grammes per litre of blood by sample.

MAX. ALCOHOL
LEVEL RATES

IN EXHALED AIR

Mg/litre

IN BLOOD

Gr/litre

All drivers are forbidden to be in charge of
any vehicle with levels of alcohol exceeding>

0,25 mg/l

0,5 g/l

For transport vehicles of more than a Maximum
Authorised Mass of 3.500 kg, not more
than >

0,15

0,3

Drivers of vehicles with more than nine seats,
and those who drive school buses, dangerous goods, public service
vehicles, emergency services, and special services.
Not more than >

0,15

0,3

Drivers of any vehicle in the two years following
the issue of their first permit/licence to drive, not more than
>

0,15

0,3
Speed Limits on Spanish Roads
Maximum Speeds:
Urban towns and cities : 30 mph (50 km/h) Outside residential areas : 55 mph (90 km/h) or it can be 62 mph (100 km/h) Motorway (autopista): 74 mph (120 km/h)
Minimum speed on motorways/dual carriageways: 37 mph (60 km/h).
While not as numerous by any means as in the UK, the speed camera salesmen have arrived and there are currently 500 static cameras set up on the roads in Spain, mainly on the 120 kph highways.
However, unlike other countries, adequate warning is given of their locations in both the Trafico (the government authority handling all traffic matters in Spain) web site and with large warning signs.
The Spanish attitude is to save lives more than collect cash. There are also portable radar traps used by local police in the towns and by the Guardia Civil on the highways. More information on speeding in Spain.
Vehicles

Roads >

Motorways

Max/ Min (kph)

Fast Main Roads

Max / Min (kph

Other non-urban

Roads

Max / Min (kph

City Roads & Crossings.

Max / Min (kph

Cars

,

Motorcycles

& Similar 

120 / 60

100 / 50

90 / 45

50 / 25

Buses &

Adpated

mixed

vehicles

.

100 / 60

90 / 45

80 / 40

50 / 25

Trucks

,

Vans

&

Articulated

Vehicles

90 / 60

80 / 40

70 / 35

50 /25

Cars with a trailer/caravan.

80 / 60

80 / 50

70 / 35

50 / 25

Probationers: 1st yr. driving.

80 / 60

80 / 50

80 / 50

50 / 25
3. Rental cars. The rental car must have the following items to be legal, and the vehicle should not be accepted without them being present in the car (except for your glasses): –
• Two CE approved triangles for breakdown use.
• One or more reflective jacket which must be outside the car on all roads where the speed limit is over 50 kph. It must be kept in the passenger area (not the boot) and put on before exiting the car.
• Spare set of lamps or light-bulbs and the tool/s to change them.
• If you wear glasses for driving, a spare pair must be carried.
• You must always have your driving licence and passport (or a certified copy) with you when driving. If an EU citizen, then your EU licence is OK. If not from the EU, then you will need an International Driving Licence in addition to your original licence.
• Always check the rental vehicle thoroughly for any damage, however small, and have it noted on the rental company's forms before accepting the car.
• Always check the tyre pressures as soon as possible after accepting the vehicle. In about 60 + % of cases, the pressures will be low, sometimes dangerously.
• Remember that the rental company is obliged by Law to give your details to the police in the event of any driving offence being committed where you were not stopped at the time, e.g. a camera trap.
• If you stop at the first filling station after collecting the car (and generally anyway) be aware of thieves who wait for opportunities to rob you. For example, never leave the car open while you pay the fuel bill unless there are fit and able adults in it.
• Never trust anyone stopping you to tell you that your tyre/s are flat or who bumps you from behind in a car park, etc.. They may have damaged them or bumped you for the purpose of robbing you, –and they always sound very helpful and nice.
Thanks to Brian Deller who produced the information above especially for SpainMadeSimple.com
Clearly it is essential to know what you are doing if you drive in Spain, otherwise as well as risking your own life, you could be endangering others. You need to know when to give way, when you are meant to go, you need to understand signs etc.
Buying a Car in Spain
Should you be considering buying a car in Spain you will need plenty of paperwork including proof of address, a copy of your passport, copy of your NIE identification number or residencia one.
When you sell a car in Spain and transfer ownership to another owner there is a transfer fee payable to the government, this usually is approximately 5% of the value of the sale.
From your point of view make absolutely sure that the person who says they the car actually does!
Check the paperwork carefully and involve a Gestor if you are in any doubt as to what procedure to follow.
If you employ a Gestor they will ensure the car does not have any debts on it such as finance or fines.
Having purchased the car successfully you will need to ensure that it has the applicable Spanish road tax and car insurance in order to be legal on the roads in Spain.
Spanish Road Regulations
You will often see road tax called IVTM and this is an annual tax which must be paid at the local town hall.
To make payment easier in subsequent years you can setup a standing order with your bank so it is debited automatically from your account.
The amount you must pay for road tax in Spain does vary depending on a number of factors which of course is the type of vehicle including it's engine size and age.
Energy efficient green cars with lower emissions pay less.
Another government regulation is a test which ensures of vehicle is safe to be on the roads in Spain (Spanish MOT).
This is known as a ITV.
This is applicable to all feel calls and cars over four years old. Throughout Spain there are specific ITV centres which you must take your car to in order to get the ITV certificate.
There are many tests which the car must go through some of the more popular include checking the emissions from the exhaust, brakes, tyres, steering, suspension and windscreen wipers.
If the vehicle fails you have a period of two months to get it repaired, during that period the retest is free and they will only check the problem that caused the vehicle to fail the test. After the two month period you will have to pay the full amount and have a complete test done again.
Types of Insurance
Last but not least you obviously need to insure your car in Spain. Although we don't like to be negative, the odds of having a car accident in Spain are pretty high if you are a foreign driver on Spanish roads.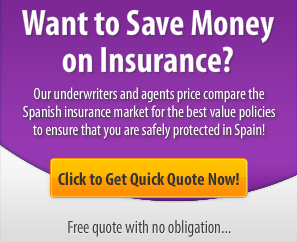 The types of car insurance in Spain are very much familiar to those in other countries, these include third party insurance, third party fire and theft insurance as well as fully comprehensive car insurance Spain.
Third-party car insurance in Spain is compulsory and the Spanish police most likely the Guardia Civil, you will stop your car and will most likely seize your car if you do not have insurance.
We can also give you quotes for motorbike insurance.
One final tip is that we always personally recommend getting the fully comprehensive car insurance as this also includes roadside assistance and breakdown cover included in the policy.
Most companies also give you a number of useful extras such as cover should your windscreen shatter and also legal assistance which can be very useful if you are involved in a legal dispute in Spain.
Happy motoring in Spain and do take care to drive slowly and safely avoiding all those other crazy drivers on the Spanish roads!
Related Insurance Pages
https://www.spainmadesimple.com/insurance/car/