Below we have contact details and information for Easy Insurance Brokers Spain.
These contact details include telephone numbers as well as addresses and the official Easy Insurance Spain website details.
About EasyInsurance – we cover all your insurance needs in Spain.
We offer comprehensive motor and car insurance in Spain, home insurance in Spain, compare life insurance Spain, travel insurance and Spanish health insurance to the ex-pat community in the Costa Blanca, Costa Cálida and Costa del Sol, Spain.
Easy Insurance have offices in Torrevieja and La Zenia (Orihuela Costa) – come and see us, telephone us at 902 31 04 04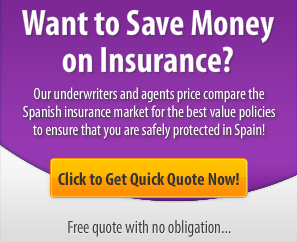 CONTACT DETAILS FOR EASY INSURANCE
Easy Cover/Easy Insurance Torrevieja
Address:
Avda. Delfina Viudes, 10 Local 24
03183 – TORREVIEJA (Alicante)
TELEPHONE: 96 571 9700
FAX: 96 670 4542
Easy Cover/Easy Insurance La Zenia
Address:
C/. Alhambra, S/N
Edif. Torregrosa, Local 3 – Urb. La Zenia
03189 – ORIHUELA COSTA (Alicante)
TELEPHONE: 96 673 0300
FAX: 96 673 0477
If you have any experience of using EasyInsurance please help us by making comments below in order to help other people searching for insurance in Spain.