The AXA Group is a giant multinational business which is a very well known and recognised name in the insurance industry.
AXA operates in 57 countries with major market share in Europe, North America and Asia Pacific.
AXA Spain consists of a number of different divisions providing different services to over 4 million customers through these companies as listed below:
AXA General Insurance
AXA Winterthur Health
AXA Life
Aurora Life AXA
AXA Pension
When you use AXA you are dealing with a established reputable company with a brand name that is recognised globally.
Service and support will be there when required. AXA have over 1,200 employees in Spain to help you as well as a powerful distribution network which includes more than 10,000 points of advice and sales.
AXA also have 3,300 exclusive agents, 600 consultants and they also distribute their products through all of the more than 3,000 insurance brokers operating in Spain.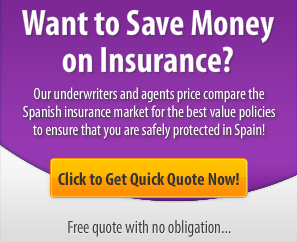 These are the insurance services offered by AXA:
Car insurance
Motor insurance
Moped insurance
Quad bike insurance
Truck insurance
Expat insurance
Community insurance
Property insurance
Travel insurance
Life insurance
Life insurance for diabetics
Income protection insurance
Dental health insurance
Home insurance
House insurance
Savings and pensions
Accident insurance
Liability insurance
Hunting insurance
Fishing insurance
Cat insurance
Jet-ski insurance
Yacht insurance
Marine insurance
Funeral insurance
Death insurance
Pension plans
Investment funds
AXA Car Insurance
In Spain it is compulsory to have third party insurance at the very minimum.
It makes sense to take out fully comprehensive car insurance which will usually come with some very useful extras such as roadside assistance should you break down while driving in Spain.
AXA is a brand name you can trust when looking for auto insurance.
Our main compare car insurance section informs you about the rules and regulations concerning owning a car in Spain and what you must do to ensure it is legal on the roads.
Life Insurance
If you want to protect your standard of living and your family's financial future you need to consider taking out life insurance in Spain. AXA offers a range of life insurance policies to fit your family situation and needs.
AXA Home Insurance
AXA's home insurance will cover your property whether it is a villa, townhouse or apartment.
Most house insurance policies in Spain will come with third-party liability and will cover the building itself, the contents and personal possessions inside your home, or both.
Health Insurance from AXA
AXA offers international private health insurance cover for Spain through it's AXA PPP healthcare plan also known as AXA PPP International.
"Quality International medical insurance cover for you and your family is especially important when you live outside the UK. Our International Health Plan draws on over 40 years' experience in international health insurance to offer you and your loved ones flexible, affordable peace of mind."
Contact Details
Address: Camino Fuente de la Mora, 1 – 28050 Madrid
Telephone: +34 915388200 – Fax: +34 915553197
Website: https://www.axa.es/
E-Mail: atencion.clientes@axa.es
One of the great things about dealing with AXA in Spain is that if you are an expat who doesn't speak fluent Spanish you can get service and support your insurance needs in English and other languages.
For information or guidance related to your policy, product or service contract provided by AXA Insurance or to report an accident or make a claim, this is the number to call for English speaking help and assistance:
AXA in English – Telephone: 902 10 25 75
Opening Hours: Monday through Friday from 8:00 to 15:00.
Language support is also provided on this telephone number in French and German.
Are you a customer of Axa Insurance Spain?
We are seeking all of your personal opinions and reviews of AXA's many different services in Spain so that we can help other readers decide whether to take out insurance policies with them or not.