This article on motorbike insurance in Spain (known as seguros de moto in Spanish) is designed to help expatriates (expats for short) living in Spain, get the lowest and cheapest quote.
We also have some basic driving in Spain tips and advice so you know some of the rules for riding motorcycles & motorbikes in Spain especially if you are touring Spain on a bike.
Save Money & Time – Get Your Online Bike Insurance Quote Now.
Let our insurance broker partners do the hard work by comparing the market…
Please note that we can only get quotes for people aged 25 or over and who have had a full driving license for 2 years or more.
The legal/privacy bit we have to put in – Note that you are using this form to submit your details to us so we can then compare the market and give you options for motorbike insurance. Our privacy notice at the footer of our website lets you know how we use your data and how to request removal. You don't need to do anything other than fill in your details and let our brokers do the rest.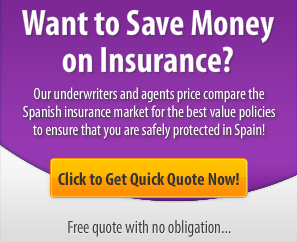 If you are wanting a quote for either car, home or life insurances, then we have special forms for those:
Click here for an online quote for car insurance.
Click here for an online quote for home insurance.
Click here for an online quote for life insurance.
How to Find Cheap Motorbike/Motorcycle Insurance
One of the easiest ways to find the cheapest quote for motorbike and motorcycle is to contact a Spanish insurance broker that can take your details and wants and contact multiple companies on your behalf in return for a small commission.
This process is extremely time consuming if you were to do it yourself and you still may not come up with as low a price as a broker can find you, because you are very unlikely to know all the various sources of competitive Spanish motorbike insurance.
If you are a young person under the age of 25 then you may find it hard to find anybody willing to insure you. Our related article on car insurance for young drivers in Spain is worth reading.
Insurance Brokers
Spanish insurance brokers that can help you with finding cheap quotes for motorcycle insurance and motorbike insurance in Spain include: Jennifer Cunningham, Knight Insurance Spain, INOV Insurance, Abbeygate Insurance, Expat Insurance in Spain, Spanish Insurance Solutions (SIS), The Insurance Centre, Hamiltons, IBEX Insurance, Easy Insurance Spain/Easy Cover and IIS (Insure in Spain).
Insurance Companies
Companies that provide insurance in Spain for motorbikes & motorcycles include: Linea Directa (the Spanish equivalent of Direct Line Insurance in the UK) as well as Liberty Insurance ( Liberty Seguros) and Mapfre insurance Spain.
Try also find a insurance price comparison website that will compare the details of your motorbike or motorcycle and with your personal details it will search and give you on online quotation indicting the cheapest insurance providor.
Websites To Compare Motorbike Insurance
Spain does not have the variety of price comparison sites which are much more common in other countries. However a new site from Asesor Seguros does just that. This comparison site compares prices between the best Spanish insurance companies as listed below:
Mapfre Motos
Linea Directa Motos
Genesis Moto
Fenix Directo Motos
Caser Motos
Regal Moto
Mutua Madrileña Motos
Sovag
Pelayo Motos
Reale Motos
Inter Hannover
Mas Moto
MMT Seguros Moto
Remember to not purely base your decision on price alone. Cost is an important factor but so is the small-print, what coverage is included and what service you may get if you have to make a claim.
Riding a Motorbike and Motorcycle in Spain – Tips, Advice, Road Rules and Regulations
We have some useful information below for people considering biking and touring in Spain on a motorcycle or motorbike.
In this instance your current insurance policy will no doubt have an option to include some overseas coverage for a limited amount of time, most probably sufficient enough to tour through Spain for a short biking holiday.
You do need to be aware of the Spanish laws for motorcycles and motorbikes so that you don't get caught out and fined.
Fines for speeding in Spain are high. These are the official Spanish speed limits on the different types of roads:
Spanish Motorways (auto routes) 120 kilometres per hour.
Normal roads 90-100 kilometres per hour.
Urban areas (i.e. cities and towns) 50 kilometres per hour down to 30 km/h near schools.
When driving your motorbike or motorcycle in Spain it is regulation to carry a high visibility vests and warning triangle.
Always have your important documents on you at all times. These include your passport, insurance policy documents and your drivers licence.
If you are stopped by the Spanish police and you failed to have the correct documentation or you were speeding you may be subject to on the spot fines.
If you cannot pay immediately they will escort you to the nearest cash-point machine. Failure to be able to pay can result in your motorbike being impounded.
Is Motorcycle Insurance in Spain Compulsory?
Yes, motorbike and motorcycle insurance, and this includes scooters and mopeds, is compulsory just like Spanish car insurance whereby you must have the minimum third-party as required by law.
Policies in English
Fortunately these days most of the major Spanish insurance companies and also the growing number of insurance brokers appealing specifically to the expat market, are offering bike and motorcycle insurance policies in English as well is providing English-speaking staff on hand to answer any questions you may have.
In particular, Liberty Seguros and Linea Directa have good English-speaking staff. Also the major insurance brokers of Ibex, Abbeygate and Knight Insurance offer policies in English.
Types of Bike Insurance in Spain:
Fully Comprehensive Motorbike Insurance
Fully comprehensive insurance in Spain is called 'todo riesgo' which translates as 'all risks'. This covers motorcycles or motorbikes involved in an accident as well as covering you and the third-party in the event of personal injury and for medical expenses.
Fully comprehensive insurance in Spain will usually also come included with asistencia en viajes (breakdown cover and roadside assistance) and legal expenses (defensa penal).
Third Party Motorbike Insurance
This is the most basic type of motorbike insurance in Spain and it is this type that is the compulsory, minimum as required under Spanish law. All type of motorbikes must have this insurance under Spanish law. In your documentation you will see this referred to as either responsabilidad civil obligatoria or seguro obligatorio.
Do note that if you are involved in an accident this insurance only will cover any damaged to the other vehicle or people involved in the accident. Any medical injuries you sustain or damage to your bike is not covered if the accident is your fault.
Third Party Fire and Theft Motorbike Insurance
You can opt for just third-party insurance but it is better to pay the extra for third party fire and theft. This is because there really isn't much difference between the two and also because there is a lot of motorbike theft each year in Spain. If your documentation says 'responsabilidad civil obligatoria, incendio y robo then you have third-party fire and theft insurance.
No Claims Bonus in Spain
Most Spanish insurance companies will recognise your no-claims bonus (NCB) even if you have built this up in another European country such as the United Kingdom (UK).
In common with other countries your motorbike insurance in Spain gets cheaper the longer you go without making a claim on your insurance policy. You can always opt to pay a small additional premium in order to protect against the risk of losing your no-claims bonus.
Recently Quoted For:
We have recently provided online quotes and prices for the following types of bikes:
Yamaha Faser S1 cc:600
Triumph Bonneville America cc: 850
Keeway Zaharah cc: 124
Aiyumo yy125t-25 cc: 125
Harley Davidson VRSCR Street Rod
HONDA CB cc: 250
Triumph trophy T312 cc: 1188
BMW F650 CS cc: 650
Yamaha Cygnus cc: 125
Motovespa Vespino f9 cc: 49
Piaggio Typhoon cc: 50