If you are looking for insurance on the Costa Blanca you may wish to deal with a local company whereby you can actually go into an office and speak to an insurance agent and broker.
Dragon Insurance are insurance agents and brokers providing various types of insurance for expatriates in Spain including contents insurance, Spanish home insurance, car insurance, motorcycle insurance, travel insurance, marine insurance, golf insurance, health insurance, commercial insurance, scooter insurance and Spanish pet insurance.
Dragon claim to insure just about anything. their multi-lingual staff speak multi-lingual staff speak English, Spanish and German.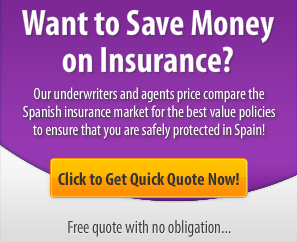 Based on the Costa Blanca of Spain Dragon Insurance were formed in 1998 and can negotiate competitive insurance quotes for the following:
Cars
Motorbikes
Vans
4X4's
Boats & Jet Ski's
Trailers
Motor Homes
Caravans
Building Insurance for both permanent & holiday homes/apartments in Spain and the UK
Commercial Properties, Vehicles and Businesses
Spanish & Worldwide private health care
Worldwide Travel policies (both annual and 'one-off' policies available)
We can insure both British and Spanish registered vehicles
Why Use Dragon Insurance?
General insurance and financial consultants – Costa Blanca – Spain
Costa Blanca Insurance and financial consultants
The one stop Insurance Agent for Expatriates wanting to live in spain
Let Dragon Insurance take care of all your Insurance needs
while you get on with living in Spain
Best prices for all kinds of Spanish and British vehicle insurance
Full Spanish medical health insurance
Worldwide travel insurance policies
Life insurance policies for Spanish residents
Secure Spanish and British home insurance
Marine insurance for all types of vessel
Spanish commercial insurance for most businesses
Fully experienced, mature, multi-lingual staff to help you find the policy for your needs
Dragon Insurance Contact details:
Telephone: +34 96 649 3762.
Website: https://www.dragoninsure.com/
If you have any experience of using Dragon Insurance please help us by making comments below in order to help other people searching for Spanish insurances.